Looking for a fun family project? Want to give your cake decorating skills a boost? Need a cake for a special occasion but don't have the tools or the desire to clean your kitchen afterward? Leave the oven behind and get right to the fun part – the decorating!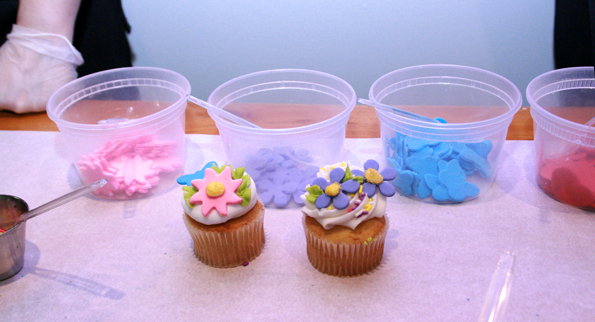 During Open Studio times, Sugarplum Studio guests guide themselves through a Do It Yourseld cake or cupcake decorating project that's completed in studio using our decorating tools. Though professional instruction isn't provided for Open Studio, our staff will be on hand to answer questions and to assist with tools and materials. Open Studio projects are the perfect activity for anyone looking for a fun, edible art project!
Open Studio sessions are typically scheduled in unsold time blocks typically reserved for private parties and therefore will vary from month to month. If an Open Studio is to be scheduled for any given weekend, it will be posted on our Workshop Calendar on Wednesday of the same week.
When scheduled, Open Studio times will be listed on our monthly calendar and we strongly recommend calling ahead or registering online for project and cake flavor choice availability.
A group may share a single project ( e.g. two siblings decorating 12 cupcakes or one cake together), but only ONE SET of decorating tools/fondant is included with the project. If you would like each sibling to have his/her own set of tools/fondant you may purchase two projects, ( for example, 2 sets of 6 cupcakes) OR pay an additional Studio Fee of $5 for each additional tool/fondant set at the time of check in.
Your Open Studio reservation fee includes your choice of one Cake or Cupcake Project, your choice of one Buttercream Finish of Fondant Finish, plus 90 minutes of studio time.
Cake Projects:
Cake projects include 1 two layer cake in the specified size, in your choice of vanilla or chocolate with a cup of vanilla or chocolate buttercream to ice your cake.
Upgrade to a three layer cake and Sprinkle Surprise center for $2 more!
Sizes:
• 6″ Cake $24.95, plus tax
• 8″ Cake $29.95, plus tax
Cupcake Projects:
Cupcake projects include specified number of cupcakes in your choice of vanilla or chocolate, with a cup of vanilla or chocolate buttercream to ice your cupcakes
Quantities:
• Half Dozen Cupcakes: $18.95, plus tax
• One Dozen Cupcakes: $24.95, plus tax
Once you've reserved your cake or cupcakes, when you arrive to the studio, you'll choose between a Buttercream Finish or a Fondant Finish to decorate your edible art.
Buttercream Finish
Includes your choice of 3 piping bags of buttercream colors and 3 decorator tips
Fondant Finish
Includes a rainbow bag of fondant and use of our wide selection of fondant cutters.
Get BOTH finishes for an additional $10 fee